New Years Eve with Allison Ames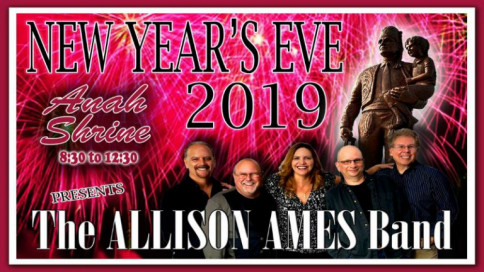 This dance is open to the public
Make your plans to attend the 5th Annual Anah Shrine New Year's Dance Party with the Allison Ames Band!!
Music starts at 8:30pm dance til 12:30am
Tickets available by calling Anah Shrine at 942-2254 or stop by the office at 1404 Broadway, weekdays 8 a.m.-4 p.m.
Tickets are $25.00 per person and include Hot & Cold Hors D'oeuvres with Potato Bar
Bring a beverage of YOUR CHOICE!
Set-ups (ice & mixer) available by donation.
Sponsored by Anah Mini-Cars Unit & Anah Shrine Clowns Unit
Tickets are NON-REFUNDABLE and NOT TAX DEDUCTIBLE for this event.